God Moments on the Journey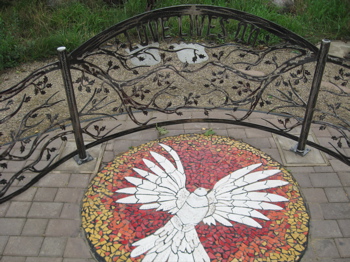 There have been so many "God Moments" as we created this labyrinth. Some even occurred when the labyrinth was only a dream. We, as a committee, thought it might be a good idea to share some of those moments with all who come to travel these pathways. May they be an inspiration for you. They certainly have been for all of us who have worked on this special project. It really has been a journey filled with blessings.
Entrance
* The five ton engraved stone that welcomes you to the labyrinth was a gift from Dome Construction. Not only did they allow us to choose the stone that would be ideal for us, but they offered to bring the stone into the city with some of their big equipment. The original stone that we had chosen for this purpose could not be used because it was limestone and would not have withstood the sandblasting necessary to engrave it. Thanks to Remco Memorial and some volunteers we were able to go back to the Dome Construction rock pit and check for granite. As soon as we walked into the pit, we spotted the perfect stone. It was the right shape, size, and type. Everyone smiled and agreed that our welcome stone had been found. Thanks to the generosity of Dome Construction owners the stone made its journey from their pit to the Labyrinth of Peace. A special crane had to be brought in to lift the stone into its place. When it was first lifted in, the five ton stone was upside down so it had to be restrapped and flipped in mid air before it was set in place and engraved. That was no small feat. Thanks Terry and Lori Hetke!
Site 1
Connect with the Earth
* We were desperately looking for the right stones to start and finish Site 1. We had no idea where they might come from until one of our staff members from Vanier met a woman at a soccer game. She mentioned that she wanted to get rid of two enormous stones from her front yard and asked if he knew anyone who would be willing to come and remove them. He smiled and told me about the stones the next day. The woman had not known that we were looking for enormous stones for the labyrinth, but her offer came at absolutely the right time. Thanks to the generosity of Cypress Paving and some expert equipment operators the stones were able to be moved from an incredibly difficult location to the labyrinth. The one giant white and one giant black stone were a great way to start and finish the "Connect with the Earth" site.
* The other special moment came when we were searching for a single furrow plow. They are not that common anymore and we had been searching for months to no avail. While driving around Moose Jaw along High Street, we spotted the perfect plow. However, it was not for sale. We were disappointed but not ready to give up. A couple of committee members went to chat with the owner of Silver Star Salvage. After explaining our project and discussing the need for the plow, the owner promised that he would think about selling it. The next time we stopped in was several months later. He had decided to donate the plow to the labyrinth project and sent his workers, along with a large truck, to load the plow and move it to its present location in the Labyrinth of Peace. It really was an extraordinary and unexpected gift.
Site 2
Let Go of The Busyness
* One of our Vanier parents shared her passion for ceramic tile and clay. She had created her own studio and offered her services to design an unique six foot circular piece for the labyrinth that would reflect how we all get caught up in being busy and have trouble stopping to let God in. Our problem was two fold: how would we create a six foot pillar that could hold 1000 pounds or more of clay and how could we create a mold 10% larger for the wet clay pieces to be formed before the firing process? Inspiration comes from the most unique of places. This bit came from a short drive past a construction site where there were large circular cement manholes stacked on one another. That was it! That was how we were going to make the cement form for Janice's creation. We were excited and quickly purchased and cemented the pieces together at the beginning of Site 2 to get ready for Janice Schiman's creation.
* The second God Moment of Site 2 came during a visit to the Murray household. I had heard that a gifted welder resided there and that he might be open to getting involved in the labyrinth project. I'm not sure he knew, at the time, what he was getting into but Bruce Murray listened to the ideas for a circular style sundial that would be approximately 4 feet in height. He took the idea and ran with it. Bruce created unique angles and a beautiful circular piece with an arrow. He asked Mark Anakaer if he would do the primer coating for us in his paint shop and Mark, as he had done so many times before for the figures in Site 10, came through once again. Still another individual did the plasma cutting of the site's title, "Let Go of The Busyness". All of these individuals took time out of their busy schedules to use their gifts and resources for the labyrinth project. Like so many things in this project, we owe so much to so many individuals for giving of their time, energy, giftedness, resources, and enthusiasm. Thanks guys!
Site 3
Celebrate the Present
* Sometimes the people closest to you can surprise you the most. We had only two labyrinth sites that had not yet been adopted. One was considerably more money than the other. Rose Mary Hartney, a friend and a person on the labyrinth committee, stepped forward to adopt one of our last sites. Site 3 was one of the more expensive ones and it was also a difficult challenge as it involves letting go of the hurts from one's past so one can live more fully in the present. This humble individual stepped forward at a time when we were encountering some difficulties in the labyrinth journey. Her support came not only in words but in actions and she adopted Site 3. She also helped in the design concept and planting. All was gift.
* Another gift came with a Vanier alumnus who had just recently graduated. Jesse Noble always had a deep love of welding and creating unique projects including a motorized reclining chair that he drove around our Vanier track. Jesse agreed to get involved in the creation of the bridge needed for Site 3. He had never made anything like this bridge before but that did not deter him. We gathered periodically to talk about ideas and solve problems. What you see is the culmination of that collaboration. Jesse was only eighteen at the time but he always had incredible talent and a huge heart.
Site 4
Seek Meaning
When the labyrinth committee was looking for a stone sculptor, one name kept coming up: Scott McLeod. I went to Radville with Karen Gaucher, a woman originally from that community. The plan was to meet with Scott and discuss our dream for the labyrinth and for Site 4 – Seek Meaning. We walked into Scott's yard and saw a massive stone sculpture called "The Waking Angel". I was overwhelmed as I looked at wings carved in stone. The wings looked as if they were as soft as real feathers. The angel was laying on her side, almost in a fetal position, as she traced the beginning of the universe on the surface beside her. She was beautiful as she listened to the call of God to create. Anyone who has seen "The Waking Angel" knows he/she is looking at a truly inspired piece where the hand of the sculptor was guided by the gentle touch of God. We asked Scott about doing a simple piece for our "Seek Meaning" site. He said, "Absolutely!" He had not sculpted much since putting so much of his life and inspiration into "The Waking Angel". He commented that working on the 'Seek Meaning' piece might just help him find his own meaning and purpose again. Before we left, Scott took us to the site where he had carved the angel and picked out the stone for our piece. He also handed us something extraordinary: a piece of stone carved from the angel as he was forming her. We were honoured by the gift and definitely moved by our meeting with the angel. It seemed like we had met two angels that day.
Site 5
Embrace Life
The labyrinth needed something for the Embrace Life site. We were out of ideas until my sister, Ginny and I went to Disney World and we saw the Tree of Life. I knew in that moment that we needed a tree in the Embrace Life site because of how trees cling to mountain sides, go deep for water in times of drought, and bend to the intense winds of the prairies. Each of these elements of nature shape and form the character of the tree much like the difficulties in life form our character. We needed a steel tree with massive roots for the labyrinth, a tree made more beautiful and unique because it had faced the worst and best and still grew stronger and more rooted. I did not know anyone who specialized in metal trees. That was a glitch. When I asked around, one name came up: Bill Keen, a retired teacher from Moose Jaw who had a real affinity for creating beautiful and unique trees. I called Bill and his wife, Laurette, and asked them if they would come to Vanier Collegiate for a meeting about the labyrinth. We talked about combining mediums with another artisan, then creating an individual project, then designing the wall for the tree and so much more. What started as a somewhat tentative first meeting quickly evolved into excited ideas bubbling forth. The original plan of combining art forms was scrapped and a unique circular tree concept was born. The moment we looked at a tree that had almost been blown in on itself we knew we had found what we had been seeking. Bill and Laurette left for China and when they returned they had five different sketches of the almost circular tree. Each was unique. They dropped by Vanier to show me and each of us shared our #1 choice. It was the same sketch! We had a laugh – It was a God moment. Over the next number of months Bill and Laurette created an amazing metal tree with massive roots. When we went out to their acreage to see it, I shared the reflection I had written to go with the tree and the Embrace Life site. Bill suddenly left the room to retrieve a small metal tree he had made many years before. Under that tree's base Bill had written a reflection. It was so close to mine we laughed. Another God moment!
Site 6
Embrace the Sacred
* The original concept for this site was a steel gazebo with unique designs representing death to new life. One day a man was seen standing in the labyrinth staring at the centre where nothing yet stood. The students of Vanier said he looked like Jesus so my curiosity was piqued. A better description of Doug Sagal would probably be "Father Time" as he had incredibly long white hair, mustache, and tattered jeans. He spoke of the unique energy that he could feel in the labyrinth space and described the sense of peace he experienced at the centre. He asked what we planned for the centre space and I explained that it was to be a solid steel gazebo with symbolic designs on the walls. He said "No, it can't be." I was taken aback. Curious, I asked why not and he explained that the energy of the space needed a natural material. He said the gazebo had to be made of wood. He offered his services which surprised me since he resides in British Columbia and not Saskatchewan. He promised that he would go back to B.C. and hand hew some red cedar to bring back to the labyrinth and assemble the basic structure right on site the next time he traveled through Moose Jaw. True to his word, Doug showed up with an old van and trailer packed with hand hewn red cedar logs and over one weekend he assembled the basic structure on site. He did not use levels. Instead he used the horizon to set his levels and determine his angles. As he worked, he spoke of the positive energy in this space. The red cedar is a wonderful reminder of God's creation and of our connection with the earth. It is the ideal material for "Embrace the Sacred" and came from the right spirit of a man very much connected with the earth and the creator.
* The six walls of the gazebo represent the journey of death to life. They were crafted by Rus-Tix Metal Art in McTaggart, SK. Sergej Sinicin turned simple pencil sketches into works of art. When he dropped the finished panels off at Vanier, we were short staffed and had no idea how we were going to get them installed. Help would come from an unexpected series of events that led us to four individuals who were not even from Moose Jaw.
The day before the panels arrived, a couple from Winnipeg came to see the memorial bench in Site 5. The bench honours their nephew/cousin's (Mat Moquin) memory. I gave the McAulay family a headset so they could hear the meditation that goes with the site. They were very moved. After they were through, Al McAulay offered to assist with the labyrinth construction if there was anything that he could do while he was in town for his son, John's, graduation. The very next day the gazebo walls arrived. It was the day before Vanier's graduation and no help was available for installation so I gave Mr. McAulay a call, not knowing whether he had any construction experience or not. He arrived with tools in hand and help in tow. Al was an expert at installing overhead doors and his relative and helper, Don Tobin, had been in construction. I had no idea when I made that call that I would get such expert assistance. In a matter of hours we had two people from Tisdale (Don and his son, Kyle) and two people from Winnipeg (Al and his son, John) putting the finishing touches on the gazebo wall installation. Despite numerous challenges, such as fitting perfect rectangular steel walls into imperfect cedar log frames, they completed the installation and went off to celebrate a family supper in honour of their son's graduation from Vanier Collegiate. On graduation day a single rose was laid on the memorial bench in Site 5 to honour their nephew/cousin's memory. Help often comes when we least expect it and most need it. That was a wonderful message that came from the response of four generous individuals who are now a very special part of the labyrinth journey. A huge thank you to the McAulay, Tobin, and Moquin families. You truly honoured Mat's memory.
Site 7
You Affect Others
* Site 7 was a joint venture of two families, the Gauchers and the Stumborgs. The site, "You Have A Ripple Effect on Others" is a celebration of the people whose lives we have touched and whose lives have touched our own. The two families wanted to create an unique memorial site that would honour the various members of their families who have passed away. The bench has numerous memorials underneath it with the person's name and symbol as well as the years of his/her life. Tim Shortt of Ponds 'n Ponics donated some of the materials and Wayne Mitchell of Mitchell Brothers' Concrete assisted with the cement, mortar, and expertise. Roland Clermont created the frame of steel and donated his labour and materials. Many of the stones came from the Stumborg farm and members of both families came together to transport materials, dig the pond area, lift the massive stones, and complete the waterfall structure. It took the gifts, talents, time, and expertise of so many different people to create this site. Everyone pitched in whether they knew what the project was all about or not. That is extraordinary.
Site 8
You Do Not Walk Alone
While driving back from Radville after talking with our stone sculptor who was working on Site 4, I drove by a huge yellow sign along the highway. The sign read "Concrete Jungle". Because we were on our way to McTaggart to speak with another artisan, I did not want to stop. We must have gone a mile or so past when we both had a strange feeling we were supposed to go back so I turned the SUV around and followed the many signs leading us to Wes at the Concrete Jungle. Wes had the most amazing collection of concrete footprints, benches, statues, stepping stones and, even better, he had the most amazing heart. As we visited with him and explained the labyrinth project, he got very excited and told us of his own walking path that he was creating on his property. It is a bird sanctuary, walking path and so much more. He had a dream of welcoming travelers and visitors from all over to journey his paths in Trossachs. We knew from that first meeting that Wes had the right soul for this labyrinth project and so many more trips were made to Trossachs to buy materials from Wes and his Concrete Jungle. He never charged us what he should have and that speaks volumes about the man we met quite by accident. God has a way of touching the ordinary and making it extraordinary.
* The Child Abuse Prevention Council of Moose Jaw adopted Site 8 because of its theme: You Do Not Walk Alone. As part of their labyrinth retreat, they created the design concept and glass mosaic for the bench. It was a journey of pain and of healing. At the request of the council, the search began for fifteen rose bushes in different colors. These were to represent the different relationships that make up the fabric of our lives and which help us realize that no one walks this path of life alone. We were very blessed to discover another Vanier alumnus who was willing to get involved. John Morris has a real love for roses and a real "green thumb". He has raised his own roses since his youth. John came up to the labyrinth with sixteen different rose bushes that he donated from his own rose garden. These roses remind us all of the many relationships which bring joy to our lives.
Site 9
You Are Light
At a Vanier alumni 20 year reunion in 2004, I was asked to give a presentation on the labyrinth so the returning individuals would know about the changes to the front grounds of Vanier. Sheila Thul was one of the reunion participants and expressed interest in getting involved. I doubt that she knew what saying "Yes" to the invitation would mean, but she volunteered and immediately threw herself into fund raising within the local business community, moving mounds of earth in the labyrinth, and driving all over southern Saskatchewan to discuss design concepts and pick up essential materials. Sheila and her husband Greg Marcyniuk (another Vanier alumnus) of Heritage Insurance adopted Site 9 "You Are Light". Nichole Cornea, the art teacher at Vanier Collegiate, volunteered her class to assist Sheila with the design and creation of her site and told Sheila to look at Van Gogh's Starry Night on the internet. Sheila found "Starry Night", but she also discovered an image called "The Eye of God" taken by the Hubble space telescope. Sheila showed Nichole the image she had found quite by accident. The "Eye of God" nebula became the image of choice to capture the Site 9's theme, "You Are Light for the World". The students began working with their teacher to recreate the nebula in colored stones. Instead of the intense blue pupil of the real "Eye of God", they used red rock so they could create the universe with the blue/black stone and use white rock to represent the stars. The whole image had to be done in stone inside then transferred and mortared into place on a slab of concrete with a light to be put in at a later date. Sheila helped every step of the way and then came over to seal it with a cement sealant that would glisten in any light, real or artificial. We are called to be light for the world so how and where will we let that light shine? The students, Nichole Cornea, Sheila Thul, and Greg Marcyniuk certainly found their own unique way to do just that.
P.S. Sheila and Greg's five year old son, Matthew, came up to the labyrinth during one of our many work parties. Sheila heard him singing some song about God. After listening for a while, Sheila asked Matthew if he had learned it in school. Matthew said no and kept singing. Sheila thought she would probably hear the song at Matthew's kindergarten graduation but the event came and went and the youngsters did not sing any song like Matthew's. Sheila asked Matthew again where had he learned that song about God which Matthew had been singing in the labyrinth. Matthew replied, "God told it to me in the egg." God certainly speaks.
Site 10
Celebrate Life's Little Joys
This site was originally to consist of miniatures. However, when the committee discussed its desire to capture the awe and wonder of a child, we were no longer sure what to do. One of the committee members asked about going to Park Art, the local craft show and so a couple of us went. There we met Sergej Sinicin from Rus-Tix Metal Art and realized he was the perfect person for our Site 10 creatures and plants. Sergej made giant flowers, animals, cattails, lily pads, and more. The sheer size seemed to better capture the awe and wonder of a child and so the area of miniatures became the site of enormous creations. For kids, small things are HUGE. Sergej did a brilliant job of capturing creatures through the eyes of a child. And we found a gifted metal artisan with the right soul to create not only the metal creatures for Site 10 but the beautiful metal walls for the gazebo in Site 6 and the stunning "Love Lives On" screen in Site 11.
Site 11
Go In Peace
The Corbin family adopted this site in honour of their dad who had just passed away. One of the things they really wanted in this site was a four foot diametre dove done in tile on cement. I had no idea how to do that. It was way beyond my expertise. I explained to the family that I would try to find someone who knew something of ceramic tile in the outdoors though I had no idea where to begin looking. Weeks later I was taught a wonderful lesson: it isn't up to us; there is a greater hand guiding things. A woman walked in the doors of Vanier Collegiate and sought me out. She asked if the labyrinth project would have need of a tile artisan. I thought she was joking. Janice Schiman was the answer to our prayers. She said her daughter had asked her to get involved in the project but she didn't know what we needed or even what a labyrinth was. We needed her and her many gifts. She connected with the Corbin family and the partnership began. Some of the family knew Janice and so began a journey of grieving and healing as they worked with her in her studio to create the beautiful dove you see before you.
God Moments on our Corbin Family Journey
Our family adopted Site 11 to celebrate the life of our dad, Eugene Corbin. Dad travelled a labyrinth and so we decided to celebrate his life's journey through this site. We chose special features to symbolize Dad's legacy of faith, love, and service. Bricks were chosen, and laid one by one, to reflect his strong foundation of faith. A "welcoming" arbour was constructed with wheat sheaves to depict Dad's love of the land as well as his desire to provide for his wife, seven children, and all those in need. The Peace dove that emerges from the broken pieces of clay symbolizes the triumph of Dad's love which heals our broken hearts.
Special thanks to Janice Schiman, our tile artisan, for her direction and time designing and creating this beautiful work of art. The screen sheltering the Peace dove was inspired and lovingly donated by our adopted sister, Joan Stumborg. Our family has been blessed by this God-centered and spirited woman. Her words of inspiration inscribed on the screen "Love Lives On" give strength, courage, and hope to each of us.
This site was a work of love. Dad always said to be there for each other. Anything is possible working together and celebrating as family. We invite you to sit and reflect on your journey of faith. May our dad's legacy give you hope, surround you with love and remind you that you never walk alone. And may your life be filled with moments of Peace.
The Eugene Corbin Family ( Ron, Janet, Louise, Karen, Tim, Mark, Pat)
A Heartfelt Thanks
The Labyrinth of Peace Journey has truly been filled with more God moments than appear in these pages.
* Thank you to all the sponsors, supporters, artisans, tradespeople as well as all those who have given of their time, talent, labour, and enthusiasm to make this dream a reality.
* A special thanks to the students, staff, and caretakers of Vanier for all of their hard work.
* So many have given so much to create this prayer ground. You have been the best gift as we created the only labyrinth of its kind in the world.
Well done one and all!
May God Moments abound!