The following are audio guides for children, to each of the 11 labyrinth sites.  You can either download these to your device (see "How to Download" in the menu) or you can access them in the labyrinth using a QR code reader.
Children's Audio Guide Intro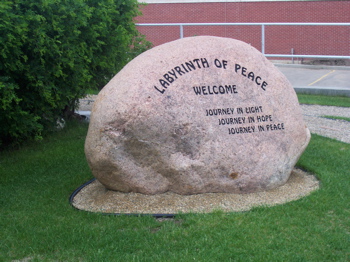 Introduction
Follow the arrows. They lead the way!
They give you the direction you are walking today.
Stay on the pathway.
Stay on it. Don't stray!
Go to place number 1. Two footprints you'll see.
Stop there for a moment. Stop there and just be.
Just stop and just stand, there's a prayer for that space.
You can read it and do it right there at that place.
And when you are done, move to set number 2.
Do what you're asked to do there to do.
God loves you a lot and wants you to stay.
Walk now to some footprints and stop there to pray.
Children's Audio Guide Site 1
Site 1 – Creation
God made the rocks and God made the trees.
God made the birds and God made the bees.
"Look! Look! Look and you'll see!"
"Look!" said the Lord, "It is lovely to me."
Look at the rocks, the grass, and the trees.
Say thank you to God for all that we see.
And say, "Thank you God for making me."
Children's Audio Guide Site 2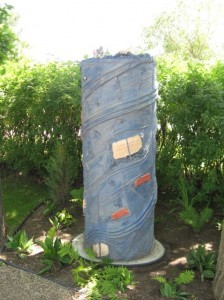 Site 2 – Too Busy
Hurry here and hurry there!
Hurry, hurry everywhere!
School, homework, music, sports!
Friends and family! Chores . . . all sorts!
Stop on your spot! See the pillar of blue?
Look at it now and find things that you do.
Is it hurry and worry as you run here and there?
Is it running and playing with no time to spare.
Now, stop close your eyes and hear sounds that you know.
Stop. Listen. Be still. No more Go, Go, Go.
Can you hear a car, a bird, or the breeze?
The sound of a bug or the sound of a sneeze?
What do you hear? What are the sounds?
It's time to slow down so God's peace can be found.
Children's Audio Guide Site 3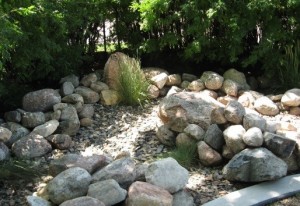 Site 3 – Let Go
Now you are standing on feet number 3.
Let's talk about hurts and how bad they can be.
Sometimes we get mad, bad, or angry too.
God knows all about that, but God still loves you.
God doesn't want you to still feel bad.
God wants us all friends, not feeling sad.
So pick up a rock and hold it real tight.
And tell God your story and he'll help make it right.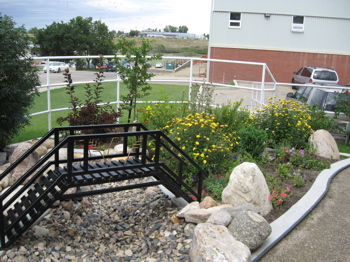 Now walk to the bridge and throw down that stone.
God knows your hurts now and you're not alone.
God loves you so much and God's love is real.
Now God has your boo-boos, how much better you feel.
Children's Audio Guide Site 4
Site 4 – Your Footprints
Here are long skinny stones with footprints you see.
Trace each one with your finger and count 1, 2, 3.
Trace them . . . each one . . . on bottom or top.
Okay let's get started on counting. Don't stop.
God asks you to follow his footsteps each day.
Do good and act kindly each step of your way.
Look again at the stones, look again and you'll see
Creatures called fossils that once lived in the sea.
Wherever you go and whatever you see.
Walk with God and creation and walk joyfully!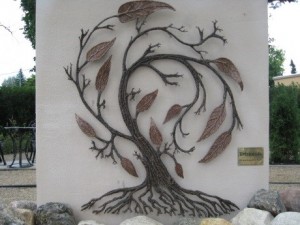 Children's Audio Guide Site 5
Site 5 – Life is good
Life can be fun and life can be good.
But not all the time, though we wish that it could!
Sometimes it's not fun. Sometimes it is tough.
Sometimes thing go wrong. Sometimes things get rough.
God has a plan for you and for me,
but sometimes that plan is so hard to see.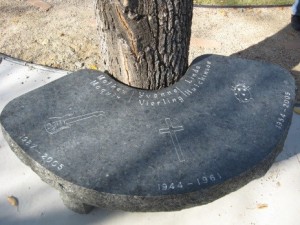 Look at the bench wrapped 'round the tree.
Trace the ladybug, cross, and guitar then just be.
Take a look at the tree, the tree on the wall.
It looks blown by the wind but stands proud and tall.
The tree is like you when things have gone bad
When things make you angry or grumpy or sad.
You can still stand proud and strong like the tree
And become the person God wants you to be
Stand proud and stand strong with people who care
About you, about God, and with whom you can share
Your good and your bad, your smiles, tears, and frowns.
You will grow to stand strong, standing proud on God ground.
Children's Audio Guide Site 6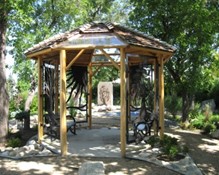 Site 6 – God is here.
God's love is great. God's love is true.
God's love is right here. God's love is in you.
Look at the clouds, the sun in the sky.
Look, Listen and wonder of how and of why . . .
You have many questions you would like to ask God.
They are really good questions. Not one of them odd.
Take time now to ask God. Take time now and see. If God has an answer, what would it be?
Children's Audio Guide Site 7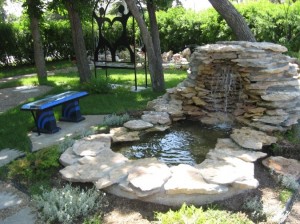 Site 7 – You make a difference.
Water falls and makes a splash you can see.
The ripples spread which is like you and like me.
Special people in your life know you and care.
They are people who love you! They are people who share
Their love and their laughter, their tears and their dreams.
Your life matters to them. They are on your team!
No matter how little, no matter how small,
You are important to many! Name each person . . . recall
Their names, their faces, and what they all do
To make your life special – to make who you are – YOU!
Children's Audio Guide Site 8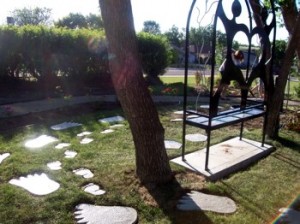 Site 8 – You are not alone.
Sometimes you are mad. Sometimes you are sad;
Sometimes you feel lonely. Sometimes you feel bad.
Walk on one set of footprints. See the other set too?
One set is for God. One set is for you.
You are never alone. God is with you each day
To guide your path and show you the way.
Your parents or friends or family you'll see
Are there for you always, whatever will be.
You do not walk alone – God is with you to stay
Others walk with you – they walk on your way.
Say the names of those people who always are there
Who love you and guide you and show you they care.
Children's Audio Guide Site 9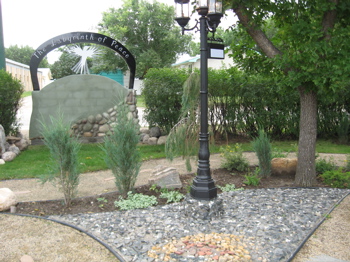 Site 9 – Let your light shine
God gave you a light it shine true.
This beautiful God light is right inside You.
Not to be hidden but to shine oh so bright.
Making darkness be gone and heavy hearts light.
You have many gifts. Think of all that are yours:
a smile, sports, music, or doing your chores.
Name them and count them for God gave them to you
To be light for God's people in all that you do.
Make a difference to others by doing your part.
Share your gifts, your kindness, your spirit and heart.
The light you see here is here to remind
Don't hide your gifts. Just let them shine.
Children's Audio Guide Site 10
Site 10 – Celebrate Life's Little Joys
Stop now and look. What do you see?
Flowers, mosquitoes, and a small bumblebee,
Cattails and rocks, frogs and much more.
They fill us with wonder, now look and explore.
How many things in this site do you see?
Flowers, mosquitoes, and small bumblebees,
Lizards, turtles and also some frogs.
The wonders and splendors are all made by God.
They are all gifts to explore. They are gifts just for you.
Celebrate and enjoy God's love in them too.
Children's Audio Guide Site 11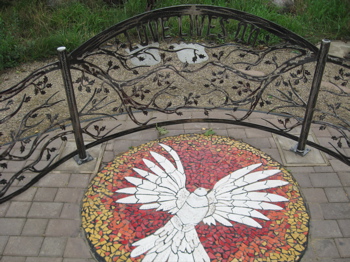 Site 11 – Go in Peace
Look at the dove all tiled in white.
It's the spirit of God right here in your sight.
God's with us always at work and at play.
In moments of wonder and moments that say,
"You are so special and I love you so.
I'm with you always wherever you go."
See the path you have walked and the places you've been.
Know your talks with God and the things you have seen.
God fills you with peace. God fills you with love.
Go now with God. Go now in love.